Environmentally Friendly PPE
---
Andrea Crome
Since the COVID pandemic, 53 million disposable face masks go into landfill every day.  Every day – and that's just in the UK alone!  We've all seen used masks littering the streets, in the parks and floating in rivers, it's another unfortunate after-effect from coronavirus.  In many instances the use of disposable face masks, aprons and disposable surgical gowns cannot be helped as they are used most by those on the front line, however, not everyone needs the same medical-grade protection as those that are in close contact with people that are infected with coronavirus and other infectious diseases.  There are however many industries that could make the switch to environmentally friendly PPE. 

Reusable Face Masks
Surgical face masks, like Type IIR face masks, give some of the highest protection and are used in hospitals, amongst other workplaces.  Until recently, type IIR masks have always been disposable with many being used by one person over the course of the day.  That is until HeiQ, the textile innovator, designed high-performance washable Type IIR face masks – better yet, they are more comfortable, available in many different sizes and can be washed up to 30 times, thus creating 30 times less waste.  HeiQ face masks are EN 14683 IIR certified so are medical-grade and can be used in hospitals. 
Reusable Gowns
NHS England is now piloting the use of reusable gowns.  They have shortlisted 20 providers with reusable surgical gowns that they are putting to the test.  If this is successful, this can reduce disposable surgical gown wastage by up to 75% which is not only a huge positive impact on the environment but it will also be a huge decrease in NHS costs.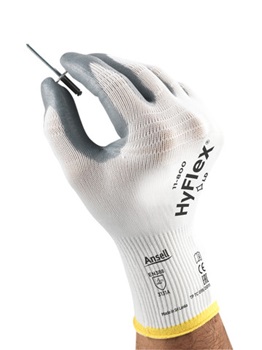 Reusable Safety Gloves
Ansell has a range of reusable safety gloves are made of nitrile, although they cannot replace disposable gloves that are used in medical and food preparation (as these gloves do not come with certification), they can still be used in metal fabrication, agriculture and construction industries to name a few, as an alternative to disposable gloves. The extra benefits of these form-fitting gloves are that they are more breathable, washable and skin-friendly. 
Here at Genuine PPE we do our best to bring you the latest in PPE supplies and are always on the lookout for certified reusable PPE products so our customers have the choice to have a positive impact on the environment.  Coronavirus has at least highlighted the issue of the vast amount of one use PPE that is being used on a daily basis.  Combining everything we have learnt from the pandemic, we can start to move forward to a more sustainable future.