Which Thermometer Is Best? 
---
Andrea Crome
There is now a wide range of thermometers available, from the classic mercury thermometer to non-contact thermometers.  With so many different types it pays to know the pros and cons for each type of thermometer so you can make an informed decision when making a purchase.  To help you understand the different options, we have summarised them below… 
Mercury Thermometer
Mercury thermometers are the glass thermometers you probably experienced as a child.  They are cheap and easy to use however, mercury thermometers are now a bit dated. The possibility of the glass smashing (either by dropping it accidentally, or a child biting it for example) is a worry for many. Mercury positioning can cause long term neurological damage so despite the low price point, using a thermometer like this on a baby, child, animal or anyone with a disability isn't a good idea. 
Digital thermometer
A digital thermometer is similar to a mercury thermometer but without any of the risks.  The price is still low, you can get an accurate reading which shows digitally on the screen making it easy to read.  You can use a digital thermometer orally, rectally and under the arm so it's suitable for all ages without the dangers of a mercury thermometer.  You will need to clean this thermometer after each use. 
Non-contact Thermometer
Non-contact thermometers (also known as temperature guns and Infrared thermometers) have become the go-to thermometer for many since the coronavirus outbreak.  These thermometers can take a temperature from a distance without making contact with the person. This thermometer, therefore, doesn't need cleaning like the options mentioned above.  The screen gives a clear indication of the temperature with fast, accurate results. You can also switch between Celsius and Fahrenheit if you should wish.  A non-contact thermometer is a higher price than the others above but still easily affordable and one of the best options for all uses and ages – you can even check the temperature of bathwater with this thermometer and taking babies temperatures is a sinch!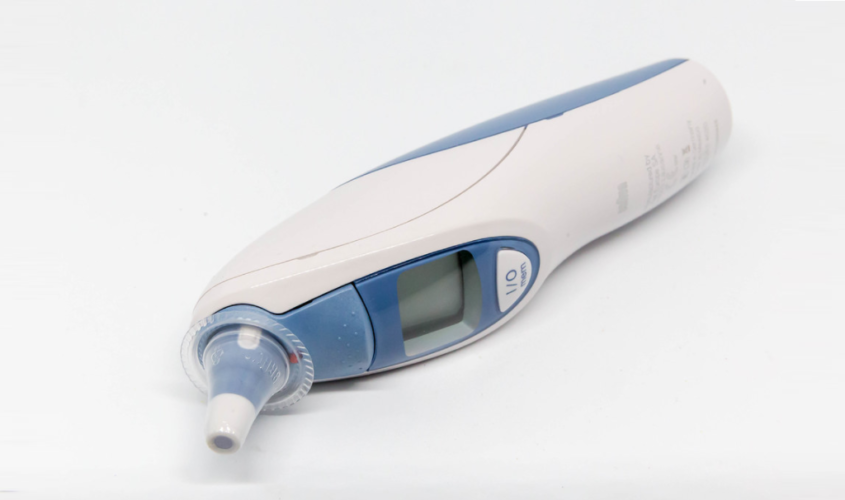 Ear Thermometers
Ear thermometers might not be so good to use on small children as it's sometimes hard to get them to stay still for long enough. They give accurate readings and fairly quick results but you will need a backlight on the thermometer to see the reading clearly in a dim room.  You will still need to clean the thermometer after each use or invest in some disposable probe covers but keep in mind the ongoing cost of these.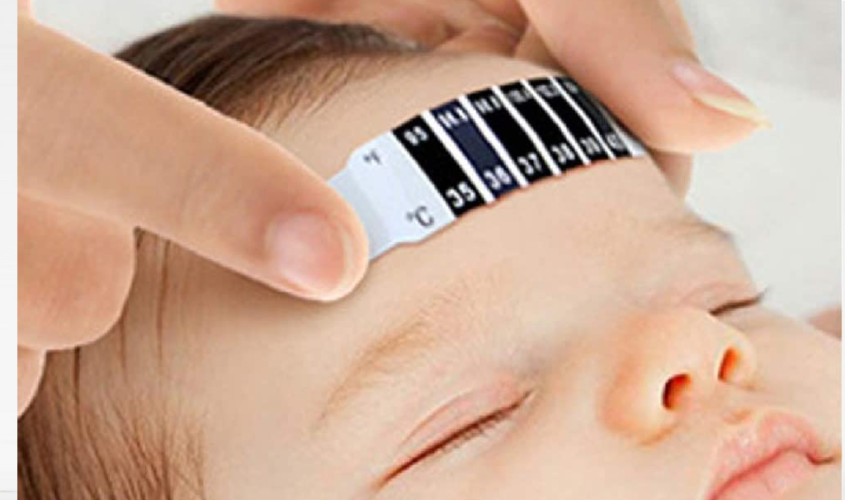 Plastic Strip 
Forehead
 Thermometers
These flexible thermometers are placed across the forehead and after a moment the heat-sensitive liquid in the thermometer will move and reveal the temperature.  Although these thermometers are a novel idea the accuracy is questionable and as many as one in four parents may miss a fever in their child due to incorrect readings. 
What to think about when buying a thermometer
There are several things to consider before you purchase a thermometer, to summarise, here are a few things you should keep in mind: 
The age of the patient – children and those with disabilities might not stay still for long.

 

Hygiene

 – Many thermometers will need to be thoroughly cleaned after each use.

 
Ease of use and speed – Obtaining quick readings make it much easier to take the temperature of any age. Something with a large digital backlit screen will be the easiest to read.

 

The lightening in the room – without a backlit screen it could be hard to 

clearly

 see the results

 

Accuracy – The difference between identifying a fever and not is critical so accuracy should play a large part in your decision

 

Fahrenheit or Celsius – we all have our preference, make sure you make a purchase with the temperature measurement you best understand.